You're engaged, and just starting to navigate the crazy world that is wedding planning. Take a deep breath and use this guide to make sure your engagement session is stress free and fun. Remember this session is practice for your wedding day, and to not take it too seriously or try to be someone you're not. Above all have fun!
WHERE?
Where to do your engagement photos is always the first question many couples have. I like to imagine your session being a glimpse into your lives, and who you are as a couple. What would you do on a Sunday together? Hike, thrift, get coffee? Think of those types of locations or activities. For example, the couple featured above loved horses. The bride had horses growing up, and they had gone riding together a few times. Not only is it personal, but it also looks amazing. For my engagement sessions, I like to have two 'looks', both in locale and outfits. So if you decide for one location to be a coffee shop, we would look at a nearby park or river nearby to compliment the session and images.
When?
I suggest doing your session at least six months before your wedding date so you can use the images on your wedding website or save the dates. Luckily, here in Northern California, we can shoot all year long. With that said, certain locations wouldn't work in the winter (read vineyards). Nobody likes a field of sticks. In comparison, the coastal hills or ocean are gorgeous year round. So the time of year you are planning your session will also dictate where we can shoot.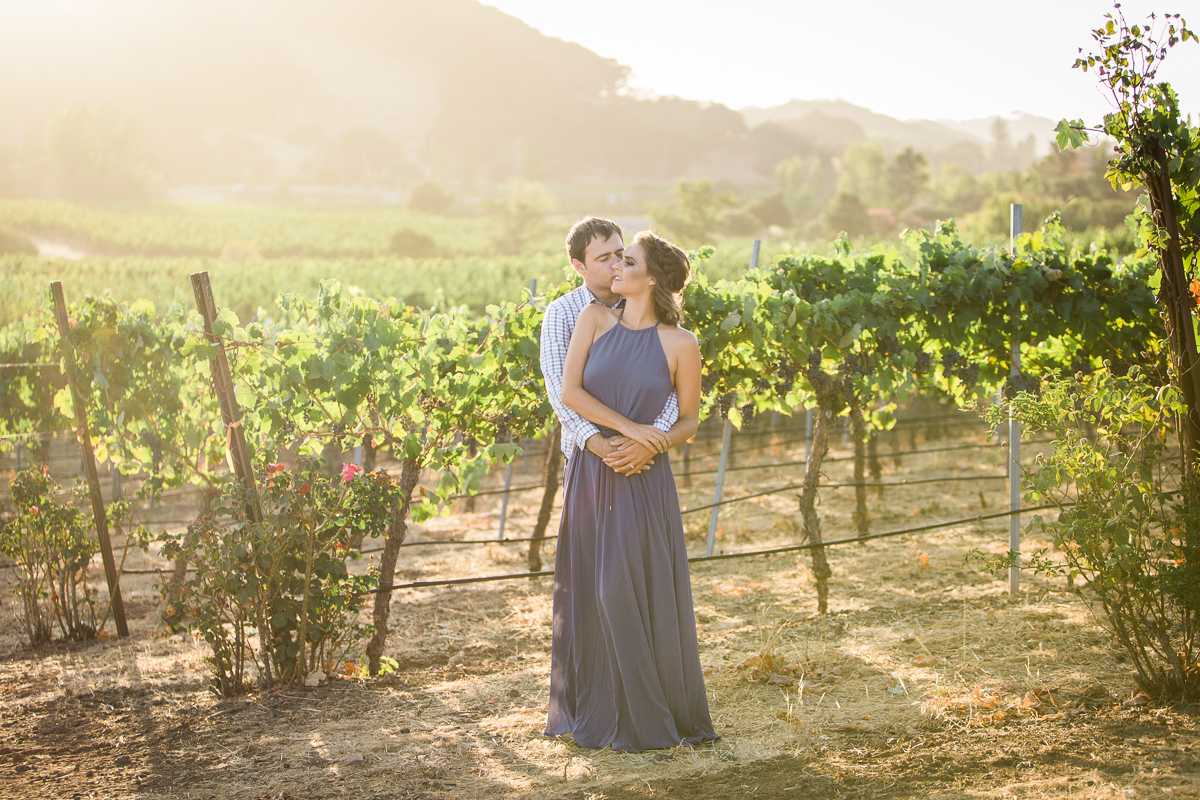 What should I wear?
First, let's talk patterns. One of you can go crazy with the patterns. Please don't both do it. Above it a perfect example- lovely! Choose a color palette you love (I love earth tones, others may like jewel tones) and build your outfits from that palette. You can go with shades of the same color, or add a color as an accent for both of you. If we'll be traipsing through a vineyard, consider flats ladies! And I usually will have you sit at some point, so a skirt that's not too short is wise. ;) Above all, love what you're wearing! These images will go on your living room walls, and you want to love the way you look.
Bring two options (one dressier, one more casual) to switch up your look for multiple locations. Even a different top will be enough. Got questions? Snap a photo of your outfits and email them over to me! Bring scarves or hats- layers and accessories are your friend.
One last tip- consider getting your makeup and hair professionally done for your engagement session. It can be as natural as you like, but will give you a finished look that helps you feel your best for your session.
What To Do With Your Photos?
Save the Dates: Make them personal by using your favorite photo or two from our session. Your guests will be more likely to keep it on the fridge for five years when they see your happy faces. :) Use Shutterfly or Zola to create your perfect look.
Wedding Website: Once again, personalize it! Make it fun for your guests to look through.
Guest Sign-In Book: A popular item for my clients, the sign-in book is a 10x10 20 page book to featuring all of your engagement photos paired with fun personalized questions for your guests to answer. I work with my clients to create a custom design and set of questions/call for advice. Replace the boring sign-in book with this fun keepsake you will look through year after year. Want one for your wedding? Contact me at maria@mariavillano.com.